Quality
Velko Hinge Inc's Quality Management System is ISO 9001:2015 certified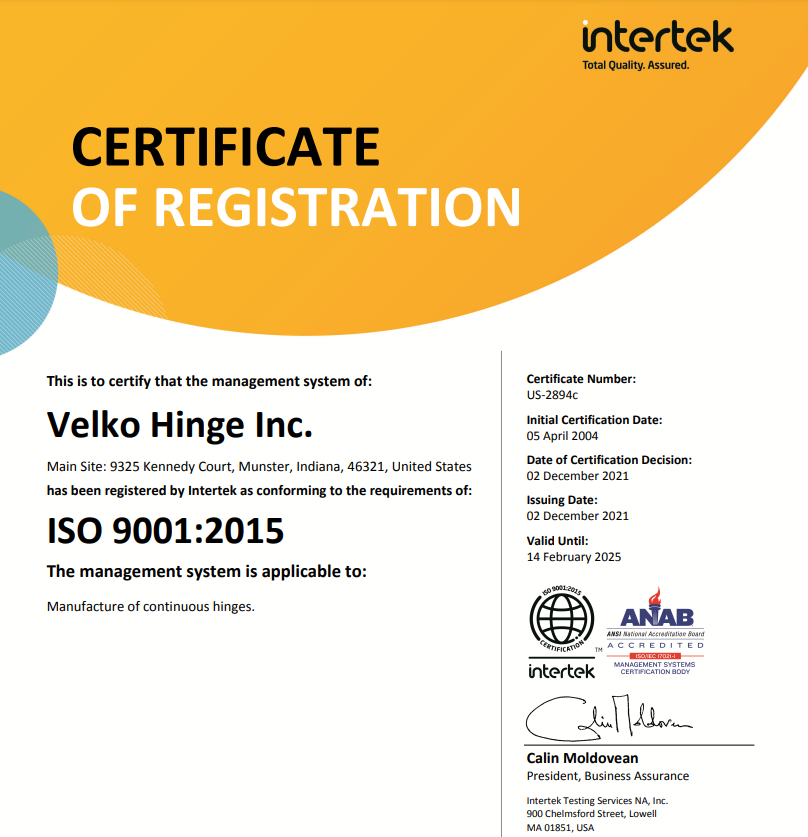 Download ISO Certificate
Mission Statement
Velko Hinge, Inc. is dedicated to supplying our customers with top quality products along with exceptional customer service at competitive prices. Our trained personnel continually strive to provide our customers the best products possible.
Policy Statement
Throughout the years, Velko Hinge, Inc. has become synonymous with service throughout our industry. We take pride in our commitment to the highest quality craftsmanship and materials. We make a formal commitment to customer service and will exceed customer expectations and industry standards.
Conflict Minerals Compliance
The Dodd-Frank Act Section 1502 concerning Conflict Minerals restricts the mining source of the following minerals: Gold, Tin, Tantalum, and Tungsten.
Velko Hinge, Inc. will take the appropriate actions to fully comply with the regulations regarding the conflict minerals and will support efforts by its suppliers and customers to reach our common goal to build up a socially responsible supply chain.