Custom & Specialty

Gauge Hinges

At Velko Hinge, we take pride in customizing our hinges to meet our client's needs. We feature a range from light to heavy gauge hinges to accommodate your requirements.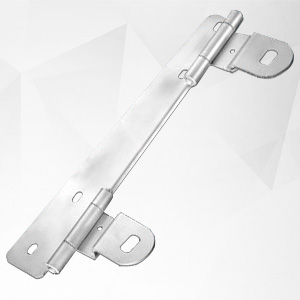 Custom Options
Available custom options include:
Exact Length
Multi-Pin Hinges
Spring Hinges
Unequal Leaves
Hole Piercing
Notched Leaves
Radius
Countersink
Forms and Offsetting
Reversed Assembled
Weld Nuts / Weld Studs
PEM Fasteners
Custom Pin Retention

Plain ends
Crimped ends
Headed pins
Spun ends
Staked
Welded Ends
Finishes
Velko Hinge is also able to provide an array of finishes for aluminum, steel, and stainless steel, including:
Anodized and chrome
E-coating and epoxy coating
Painted Coatings
Nickel and Zinc
Galvanized
Polishing
Degrease
Electro-Polishing
Passivating
More Information
Please provide Velko Hinge with your prints, drawings, or sketches along with specifications and dimensions.
Specifications
General capabilities

As Needed
Contract
Just-In-Time
Production
Small Parts

Industry Focus

Agricultural Equipment Manufacturers
Automotive/Trucks
Bus Manufacturers
Cab Builders
Construction
Electronics
Fire Truck & Ambulance Manufacturers
Machinery
Marine
Mass Transit Vehicle Manufacturers
Medical
Packaging
Pharmaceutical

Hinge Types

Butt
Continuous
Flag
Loose Joint
Military
Pivot
Plain
Reverse Assembly
Strap
Weld-On

Pin Ends

Crimped
Headed
Plain
Spun
Staked
Welded

Hinge Inserts

PEM
Welded Nuts
Welded Studs

Hinge Characteristics
Swaging

Custom Variations
Double Half Swaged Hinge
Plain Hinge
Reverse Assembly Hinge
Single Full Swaged Hinge
Single Half Swaged Hinge

Leaf Materials

Aluminum
Galvaneal
Galvanized
Stainless Steel
Steel

Pin Material

Aluminum
Brass
Nylatron
Stainless Steel
Steel

Finish

Anodized
Chrome
E-Coating
Epoxy Coated
Galvanized
Nickel
Painted
Zinc

Industry Standards

ISO (International Organization for Standardization)
Mil-Spec (Military Specifications)

Production Volume

High Volume
Large Run
Large Scale Production Volume Run
Long Run
Low Volume
Prototype
Small Run
Specialty Production Shop